Award Winning
Air Enterprises Wins 2013 North American Data Center
Cooling Product Line Strategy Leadership Award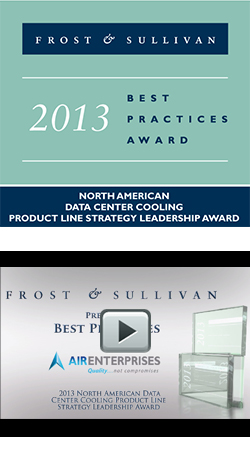 Independent analysis establishes KyotoCooling® as industry leader in cost effectiveness, reliability and sustainability; an environmentally friendly cooling solution for data centers. 
Air Enterprises accepts the 2013 Product Line Strategy Leadership Award, established and presented by Frost & Sullivan. This accolade recognizes KyotoCooling® for price competitiveness, energy efficiency, solution reliability, ease
of maintenance and market penetration potential.
KyotoCooling® is the most widely installed, longest running,
new generation cooling solution in the market.
"We are delighted to accept this honor and look forward
to expand this innovative green technology throughout
the industry as a viable solution to our current global challenges." said Martin Ellis, CEO of Air Enterprises.
View the full award write up.
---
Air Enterprises Wins 2014 Evolution of Manufacturing Award 
In global economies manufacturers must respond to demand with practical and low cost air handling solutions. 
Air Enterprises accepts the 2014 Evolution of Manufacturing Award, established and presented by Smart Business Magazine. This notoriety signifies Air Enterprises' ability to evolve its air handling manufacturing operations to meet demands of the challenging global economy. Air Enterprises has been able to enter new and expanding markets with proprietary air handling technologies
such as KyotoCooling® and Thermodry™ to help deliver
operational cost reduction as well as lower total installed cost.
---