Data Center Cooling Solutions
KyotoCooling® is the most effective data center cooling solution in the world. Delivering up to 98 percent free cooling, KyotoCooling delivers what other systems can't — sustainability.  Achieve LEED recognition and Uptime Institute Tier III or Tier IV design status.
Lowest Environmental Impact
KyotoCooling®systems are mission critical and eco-friendly. Our solutions reduce kilowatt hours consumed, reduce CO2 emissions, use less energy and eliminate the need for water. KyotoCooling clients regularly achieve LEED status, win energy awards and are among the top echelon of environmentally responsible organizations. Our systems have provided users a five year average annualized PPUE of less than 1.20, and for many that is as low as 1.05. the energy costs are limited to the power needed to turn the KyotoWheel and fans to move the air. View brochure.
KPN contracted with Uptime Institute to perform an
evaluation of the KyotoCooling process.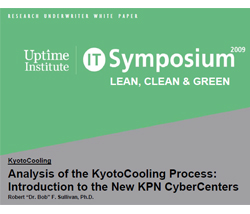 This evaluation took place over a number of visits to the KyotoCooling demonstration site in Amersfoort, the Netherlands.  The evaluation included an understanding of the physics of the technique, the design of the installation, and the performance of the system in its ability to meet the system claims made by the inventors and developers.
Unlike many data center cooling solutions, KyotoCooling utilizes a safe cooling process that allows data centers to:
Eliminate the need for water
Maintain efficiencies at partial loads
Scale cooling with IT demand
Reduce wasted energy and CO2 emissions
From the United States to China, KyotoCooling is helping facilities worldwide dramatically lower their data center footprints and water use.
Contact us to discuss a data center cooling solution for your facility.
KyotoCooling US PATENT 7,753,766 B2