Data Center Power Usage Effectiveness
Power usage effectiveness (PUE) has received broad adoption in the industry and consumed much of the industry's focus on best practices. PUE is the efficiency of the cooling plant with respect to critical load being cooled.
 The water usage effectiveness (WUE) metric, a natural extension of PUE was also developed by The Green Grid to address water usage in data centers. The focus of data center water usage effectiveness made headlines when Facebook released its initial data on WUE at its data center in Prineville, Ore.
In addition to WUE, carbon usage effectiveness (CUE) is the overall carbon footprint, or carbon dioxide emissions of the facilities energy consumption with respect to critical load. These two measures extend the family of xUE metrics and the data center industry's focus on efficiency beyond power.
KyotoCooling delivers the lowest possible PUE, typically 1.05-1.15 in most parts of the world and at 1.25 in the warmest climates when operating at peak demand. Inherently, KyotoCooling is not dependent on water and therefore has a WUE of zero. Even if a client chooses a responsible use of water with our design, our water use is typically 80 percent less than other industry solutions. KyotoCooling also has the lowest possible CUE because we provide the lowest data center energy footprint.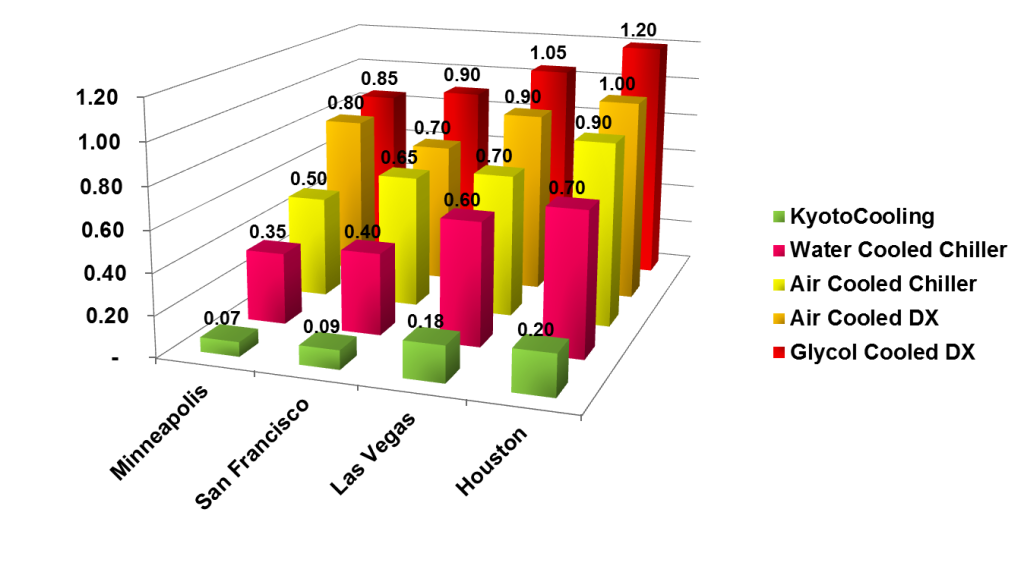 Contact us to discuss a KyotoCooling® solution for your data center.