Air Handling Retrofit
Do you need to upgrade or replace your air handling unit? Look no further for the highest performing, most sustainable air handling solutions on the market.
Watch as an old Air Handler is torn out and a new Custom Air
Handler is built on site in less than 2 days. This Air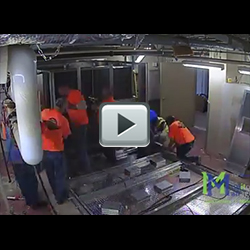 Handler serves a highly critical medical facility: A Cardiac ICU Wing. The old air handler was loud, dirty and unreliable. It had an air leakage rate that was over 10%. This was costing the hospital significant energy losses.
Air Enterprises is an ideal partner for air handling unit installation. Our FactoryBilt® and SiteBilt® products will help you take your facility's performance to the next level by delivering an immediate return on investment — from energy recovery savings to efficient air handling and ventilation.

Galvanized Unit                                    Air Enterprises Retrofit Unit