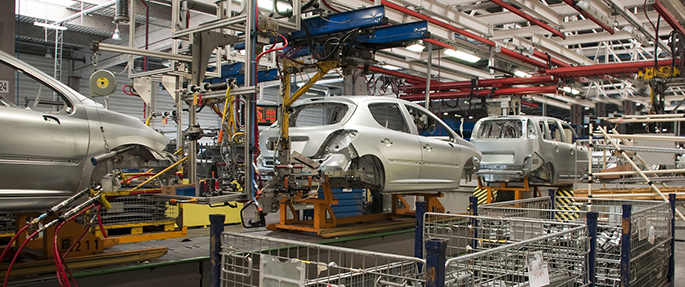 Automotive Air Handling
Saving energy and improving the bottom line are critical for today's automotive manufacturing facilities. Air Enterprises offers integrated turnkey, single-source solutions that deliver the best value available in an air handling unit with the lowest total cost to your facility. You'll be able to:
Minimize downtime
Maximize accessibility
Ensure operational efficiency
---
Air handling for automotive facilities
With their all-aluminum low-leakage construction, air handling units from Air Enterprises provide the perfect solution to meet your facility's maintenance and sustainability goals. Our high-quality air handlers deliver benefits such as:
Multiple installation options
Every Air Enterprises air handling system is custom engineered to ensure componentry maintenance, and replacement is fast and simple. Whether you prefer an on-site assembly or would like your air handling unit shipped, fully assembled, we can accommodate your needs with our SiteBilt® and FactoryBilt® replacement options.
Sustainable performance
Our high-quality custom air handling units are made of aluminum, meaning they won't rust, rot or corrode like a typical modular steel unit. The result is less maintenance, cost and downtime for your facility, along with more energy-efficient AHUs.
Energy Efficiency and Green Commitment
Air Enterprises air handling solutions are leading the charge in high efficiency, low CO2, life cycle reduction. Utilizing best in the industry practices, leading subsystems, NEMA premium efficiency motors, high efficiency fans, low pressure drop filtration, low leakage casings and many more features make us a natural choice.
Total Life Cycle Cost Analysis & Value Engineering
Multi stage filtration, total cost of ownership modeling and energy efficiency analysis underpin our design in working through threat assessment and mitigation options.
Testing, Commissioning & Training
Air Enterprises can provide complete testing and commissioning processes including re-commissioning and life cycle inspection services to ensure continued protection. Training is requisite to maintenance of continued protective state. We can provide comprehensive onsite training and procedures.
---
Air replacement systems for paint booth, baking, and curing systems

Air Enterprises is an expert in the design and construction of air replacement systems with integrated heat recovery for industrial applications. Air replacement systems replace contaminated air exhausted from industrial and commercial buildings or spray booths, with fresh, heated outdoor air, maintaining a constant leaving-air temperature regardless of the incoming, outdoor-air temperature. Air replacement systems replenish equal amounts of fresh air for each cubic foot of air exhausted. Recirculation air flow integration is provided with variable as required. Learn More.
---
Dessicant Dryers 
Air Enterprises is an expert in the design and construction of industrial desiccant dryer systems and integrated air handlers with filtration for EPA Compliance where required. A desiccant HVAC system is an air-conditioning system that regulates water vapor (humidity) levels in the air using an adsorbent material (desiccant). These systems are drawing attention as humidification and dehumidification systems because they can control humidity and temperature independently, and can help conserve energy by utilizing waste heat.
Low temperature desiccant dehumidification uses an adsorbent material that features the ability to adsorb and release (regenerate) water vapor at low temperatures.
We have extensive experience built implementing active and passive desiccant thermal wheels combined with our advanced air handling design and sophisticated filtration.  Potential applications include factories requiring humidity control, such as factories for lithium-ion batteries, semiconductors, and food, as well as cold and frozen-storage warehouses requiring defrosting measures.
For more than 40 years, Air Enterprises has partnered with some of the most efficient automotive manufacturing plants in the world, including Honda, Mercedes, Ford and General Motors.
Contact us to discuss air handling for your automotive plant.