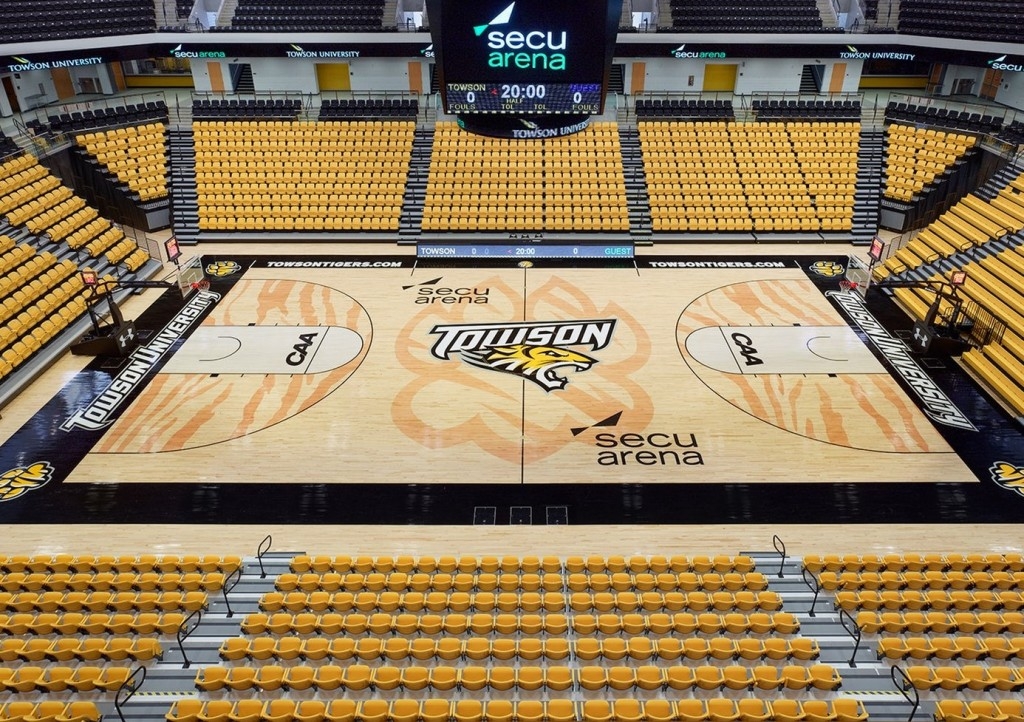 Towson University Arena
The 117,000 square foot arena, will house approx. 5,000 seats, including several executive level suites and concession stands. The 5,000 seats will consist of bolted sections to the precast and retractable floor seating. Press boxes and audio/video equipment rooms will allow for broadcasting sporting events. The exterior of the new arena consists of terracotta metal panels, 12″ & 6″ C channel, storefront glazing, curtain wall, a clear story, and split face CMU's. The first floor consists of two elevators, press room, chiller room, main electrical & tel/data room, three mechanical rooms, official lockers, and two connection stairwells to the existing center. On the second floor there are three concession stands, three men's bathrooms and four women's bathrooms, ticketing areas, hall of fame room, and a feature wall. The third level of the arena is home to a president's suite, a hospitality suite, donor's suite, multipurpose room, as well as communications and electronics rooms for broadcasting. The fourth floor of the arena holds more seats, a camera platform for coverage of games and events, and the catwalk. This will all be housed under a structural steel frame sitting on a continuous spread footing foundation, with a steel truss system supporting a built-up roof and two custom all aluminum, 47,000 CFM, air handling units.
Mechanical Systems
Heating for this building will be provided by two 400hp, four pass, fire tube boiler/burner set ups. These boilers will be set up to run parallel or independently from each other. Two centrifugal chillers rated at 450 tons each will provide chilled water for the building and two cooling towers rated at 450 tons each will provide cooling water for the chillers, each cooling tower will be rated for 1125 GPM and 450 tons of cooling. Chilled and heating water will be circulated through the building to various air handlers for temperature and humidity control within the arena. Two 53'x21'x11'custom 47,000 CFM air handling units made by Air Enterprises will be used in the main portions of the arena for climate control and will be located on the roof. An energy recovery unit will be located on the roof of the arena to allow some of the air to be diverted through the building.