Massachusetts General Hospital
CHALLENGE: When Partners HealthCare was faced with the possibility of having to tear down its entire facility, the organization looked to Air Enterprises for alternative options in air handling.
For many healthcare facilities, air handling unit installation can cause problematic downtime due to construction in high traffic areas. Air Enterprises developed two design strategies for Partner's Healthcare, each considering the limited access and criticality of the location for potential equipment rigging.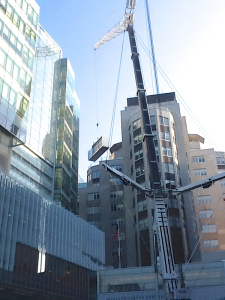 In design option one, Air Enterprises would design the air handling unit to be built on site (SiteBilt) to avoid expensive cranes and shutdown of the hospital's main entrance. With design option two, Air Enterprises would fabricate the air handling unit (FactoryBilt) into 10 shipping sections to meet the crane's weight limitations. This solution would offer the hospital the shortest overall project time.
SOLUTION: Partners HealthCare decided to implement the FactoryBilt option to serve its critical space. Timing was crucial for the hospital, and FactoryBilt sections would allow the air handling unit installation to occur over an extended holiday weekend.
The new air handling unit was designed to optimize the multiphase construction process, featuring three separate parallel airstreams, each sized for one-third of the total airflow volume. To take advantage of the available height at the building roof level, the air handling unit was also configured with two levels: a lower level that includes filtration, heating/cooling, humidification and supply fans, and a second story that includes the return fans, full economizer and sound attenuation.

Air Enterprises' designers were also able to eliminate an existing 10,000 CFM air handling unit and divert air from the main air handler to service the electrical/mechanical room.
RESULTS: The air handling unit was factory tested and witnessed by the engineer and Partners HealthCare. Once the air handling unit was installed at the jobsite, Air Enterprises performed a casing leakage test, which was recorded at less than 0.5 percent. The field test assures the owner of long-term energy savings on its air handling unit and overall system.
Partners HealthCare decided that aluminum materials were the most economical air handling solution for its health care facilities, due to their superiority over painted steel units, which rust and propagate mold and other contaminants. As a result, the client has worked with Air Enterprises for decades, utilizing more than 100 air handling units from the company's Akron, Ohio, manufacturing headquarters.